Quickstart Resume Generator
Quickstart Resume Generator
Use our Quickstart Resume Generator to quickly create a professional, employer tested, bulletproof resume by simply entering your information into the Generator. It's that easy. When you're done, you will get a shareable resume link for your social media profiles and you can download the result in Word format to print or attach to send to employers.
We used the information from our sample resume in the generator to create the following example: http://collegegrad.com/r/FWQUt6i0
Looks great, doesn't it? You can create a great resume as well. Follow these simple step-by-step instructions:
1. Create an Account/Log in
First, you'll need an account. If you have one go ahead and login. To create an account visit CollegeGrad.com/user/signup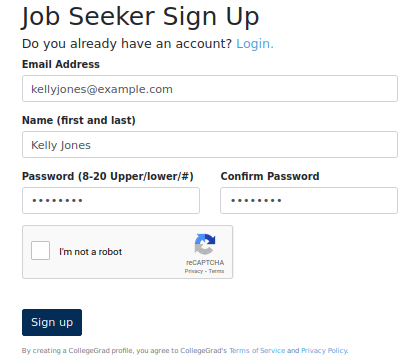 If you created a new profile, you can follow the account setup walkthrough to enter your Contact information (don't worry, we won't market to you or give your information to others) and then, instead of uploading a resume file, click the button to go to the Quickstart Resume Generator.
If you already have an account or you decided to skip the account setup walkthrough, make sure your contact information shows up as you want it displayed on your resume. If not, enter your contact info now. Once your contact info is correct, click the "Quickstart Resume Generator" button.
2. Enter your Resume information
You should see a page like the one below (mobile view shown):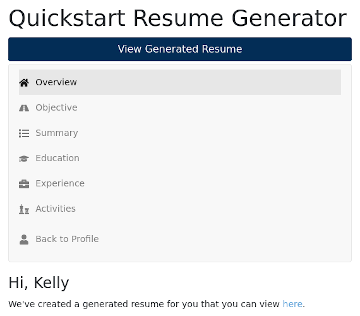 Now it's time to enter your resume content. If you need help, the
entry level resume resources
on our site come in handy. Follow our guide to resume creation as you fill out the Objective, Summary, Education, Experience, and Activities sections.
3. Download and Share Your Resume
Believe it or not, that was the hard part! Now click the "View/Download Generated Resume" button to see the finished product. Here you can download the generated resume in Microsoft Word format and get your own shareable link. Anybody with the link can see your current resume, so don't give it out until your resume is complete. Even though other people can view your resume with the link, they cannot edit any of the content.
You can edit your contact information from this view, but the other content can only be edited from the Quickstart Resume Generator page.
That's it! So what are you waiting for? Create your own professional resume in minutes: