Survey Results Detail What Top Entry Level Employers Want Most
CollegeGrad.com Releases Top Hiring Criteria for College Grads
MILWAUKEE, WI--May 1, 2006--CollegeGrad.com, the #1 Entry Level Job Site, today released the results of its survey on what employers want most in hiring new college grads. Which is more important to entry level employers the college you graduated from? Your GPA? Or what you majored in? According to the survey results, the answer may surprise you.
The criteria that the employers ranked as most important are as follows:
#1 The student's major (37%)
#2 The student's interviewing skills (25%)
#3 The student's internship/experience (16%)
#4 The student's GPA (6%)
#5 Other miscellaneous qualifications (6%)
#6 The student's computer skills (4%)
#7 The student's personal appearance (3%)
#8 The college the student graduated from (3%)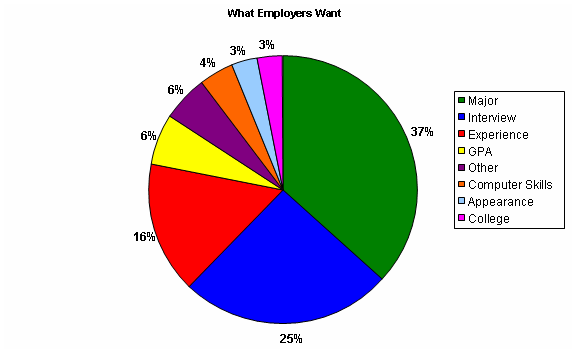 As the results of the survey show, 37% of employers ranked a student's major as the top priority for hiring consideration. Also very important to employers were the student's interviewing skills and their internships or experience.
"This is great news for students who worry that they didn't attend the right college or that their GPA is not high enough," said Brian Krueger, President of CollegeGrad.com. "The results of this survey show that these are not what most employers are looking at first."
What does it mean that an employer first looks at a student's major? "We seek qualified candidates pursuing degree programs that focus on skill sets that are of greatest interest to us," said Leslie Chappell, Director of University Relations at Lockheed Martin.
Diane Martin, Associate Director for Career Services at the University of Washington elaborates. "The academic major determines whether a student is granted an interview, but there is a combination of attributes that determine whether a student is hired."
In order to differentiate among candidates with the same major, or who meet the initial qualifications, employers look for soft skills that will complement the degree. Steven Jungman, Division Director of ChaseSource, LP points out, "While some positions we recruit for require specialized degrees in Information Technology or Engineering, when we interview Business and Liberal Arts graduates, we identify social traits and other soft skills in candidates who meet or exceed the already set forth qualifications."
Once job seekers are granted an interview, they will need to sell their soft skills as specific experience in order to stand out above the crowd. "A candidate's ability to transfer their experience into examples during the interview is ultimately going to increase their success in landing a position," said Marie Artim, Assistant Vice President of Recruiting for Enterprise Rent-A-Car.
Rob Brooks, Director of Career Services at Mount Ida College agrees. "Entry level candidates must be able to illustrate to an employer how their value will outweigh the employer's investment in providing salary, benefits and training."
While many positions require a more specific major or skill set, other positions are open to a variety of majors. "We welcome a wide variety of majors, from business and marketing to liberal arts, into our Management Training program," said Artim. "We look for a well rounded background that includes experience and activities that build leadership, communication, customer service and business skills."
This year, more than ever, employers are seeking a well-rounded, balanced candidate with a high level of business savvy that often comes from a co-op or internship experience. Top skills include excellent communication skills, problem solving capabilities, initiative, flexibility, and enthusiasm about the company.
Krueger advises maintaining a positive "can do" attitude for interview success. "The most valuable member of a team is the person who can be counted on in any situation, the person who truly strives for excellence in everything they do," said Krueger. "I will take the team player who is achieving at 100% over the flashy superstar who is coasting at 50% efficiency any day of the week. And so will 99% of all hiring managers."
The survey information was gathered while compiling the list of more than 500 Top Entry Level Employers for 2006. More information on the survey results along with the list of Top Entry Level Employers are posted at www.CollegeGrad.com.
About CollegeGrad.com:
CollegeGrad.com is the #1 entry level job site on the Internet and is the leader in the field of entry level job search. Brian Krueger is President and Founder of CollegeGrad.com and author of the best-selling book for entry level job search, College Grad Job Hunter.
---
Additional employer quotes
We at the NAVSEA Warfare Centers mostly hire Scientists and Engineers (www.nswc.com) and www.nswc.navy.mil. Among the most important areas of knowledge, skills and abilities for Computer scientist are:
General academic record (not necessarily only GPA but also course load and curriculum)
Relevant technical experience (COOP, internships, volunteering work)
Communication and presentation skills
Military experience or military systems knowledge
Leadership skills (memberships, boards)
Technical publications
Problem solving and analytical skills
General knowledge in business practices/skills
Global knowledge (traveling, studying abroad, cultures, languages)
Tony S. Gibert, P.E.
Professional Recruiting Program Manager
NAVSEA Warfare Centers
While some positions that we recruit for require specialized degrees in Information Technology or Engineering, when we interview business and liberal arts graduates, we identify social traits and other soft skills in candidates who meet/exceed the already set forth GPA qualifications.
When at all possible, we put the candidates in group situations and observe their interaction with their peers and with the hiring manager team. It is relatively simple for anyone to look good for an hour during an interview and then to later on show his/her true colors. Once the initial barriers are broken down, then we watch the way that individuals interact with all individuals in the room, and yes, that definitely includes how a person interacts with the staff and food/drink servers and we did this before it became the "new" thing to do.
My favorite response to a canned question came from a Stephen F. Austin University graduate in Nacogdoches, TX last year when I asked a young man named Sean to indicate to me, on a scale from one to ten, his interest in pursuing a career with us as discussed; his response, an immediate and unabashed "FIFTEEN!". He was extended an offer and he became one of our top producers within 6 months.
Steven Jungman
Division Director
ChaseSource, LP (the staffing division of ChaseCom, LP)
We look for POP! A positive attitude and an eagerness to succeed are the most important qualities NorthStar seeks. Skill sets can be taught a mind-set can't.
Brooke Schara
Marketing Specialist
NorthStar Express
I always enjoy speaking with a potential candidate that shows their enthusiasm about the role. These individuals are usually great at bringing fresh ideas to the table.
We expect new hires to be flexible and realize they will never experience the same day twice.
Business Acumen is always a plus when entering into a corporate environment.
It is important that a new hire is able to work within a team environment. They should realize that success often comes as a result of a collaborative effort
We are looking for people that understand that changes do come quite as quickly as we would like. Patience tends to win in the end.
Tiffany Sellers
Director of College Relations
ARAMARK
When we interview entry-level grads, we are looking for internship and co-op experience. Candidates with internship and co-op experience are distinguished in our pool from students who have simply studied the topic. While we do not exclusively hire students with internship and co-op experience, it is a significant advantage. Even more important, students should be able to articulate how their co-op experience complemented their academic inquiry and how it introduced them to the professional world. It doesn't do any good to have the experience if candidates can't speak about it cogently.
Maureen Crawford Hentz
Manager of Talent Acquisition
Osram Sylvania, Inc.
Number one we look for a graduate that has the practical experience; however, because our industry is so client intensive we look for graduates that have business savvy or what we sometimes refer to as "got game".
John M. Tuomala
Director of College Relations
Compass Group, The Americas
More than ever, today's youth are interested in joining a dynamic environment that is replete with broad opportunities to grow and succeed. Ernst Young offers just that, providing motivated accounting and business majors opportunities in audit, tax, mergers and acquisitions, and a host of business risk services.
Dan Black
Americas Campus Recruiting Leader
Ernst Young
We seek qualified candidates, both undergraduate and graduate, pursuing degree programs that focus on skill sets that are of greatest interest to Lockheed Martin. Degrees most in demand for Lockheed Martin are IT and engineering combined with the soft skills necessary to integrate complex technology. More specifically, majors of significant interest include: computer science, systems engineering, electrical engineering, computer engineering, mechanical and aerospace engineering. Eighty-six percent of our overall need is for technical disciplines.
Additionally we seek out students who have not only strong academic performance, but also those who exhibit problem solving capabilities, teamwork, communication skills, initiative, flexibility and a passion for excellence. As Lockheed Martin believes that diversity contributes to mission success, it is also important that students be open and adaptable in working with people from various backgrounds. It is imperative we effectively utilize a diversity of perspectives, skills and experiences to develop innovative solutions that win in the marketplace and meet the complex and dynamic needs of our customers.
Leslie L. Chappell
Director, University Relations
Lockheed Martin Corporation
At Enterprise, we recognize that a candidate's college major is as individual as they are so we welcome a wide variety of majors, from business and marketing to liberal arts, into our Management Training program. We look for a well-rounded background that also includes experience and activities that build leadership, communication, customer service and business skills. Their ability to transfer their experiences into examples during the interview is ultimately going to increase their success in landing a position.
Marie Artim
Assistant Vice President, Recruiting
Enterprise Rent-A-Car
At Kearney Company we aim to hire a well rounded student, that has energy, excellent verbal and written communication skills, a team player, and someone who has the dedication to grow with us. Values such as integrity, dedication, and hard work are emphasized from the very beginning of the recruiting process. We want to hire individuals who offer the skills and values necessary to be successful but we also want our new college graduates to feel that they have found a culture that is comfortable for them, a home away from home filled with new friends and exciting experiences.
Erin Ogburn
Recruiter
Kearney Company
Career Center Quotes
Employers are no longer looking for "experience" but the right kind of experience from graduates. This is a result of their commitment to hire high performers in every major/disciplines.
Dr. Faye Sutton
Career Development
University of Louisville
It is crucial for college students to refine their interview skills. Students can graduate from a great institution with a sought after major, but if they don't know how to effectively market themselves in the interview, graduating students will find their job search much more challenging.
Dr. Thomas F. Korvas
Director, Office of Career Services
Ohio University
We find that one of the most important skills all of our employers desire, regardless of the industry, is that job candidates must have great interpersonal relational skills.
It is critical that colleges keep a finger on the pulse of industry to ensure they are teaching their students the essential job skills that employers require. One of the best ways of doing this is to form a Business Advisory Council composed of industry leaders in your community who you meet with on a regular basis and who have input into your curriculum.
Steve Miller
Director of Career Services
Coleman College
Internships and career-related experience seem to be highly valued by employers, and especially for humanities and social sciences majors whose degrees can be used in different career settings. I think "hands-on" experience is as important as what happens in the classroom both for fine-tuning career interests and demonstrating a commitment to a particular employment discipline.
C. Woody Catoe, Ed.D.
Assistant Director, Career Center
NC State University
We find employers want students and graduates with real world experience such as major related internships and co-ops. Equally important, is experience that provides students with those transferable skills, abilities and qualities we hear so much about, such as perseverance, initiative, honesty, organization, leadership and decision making. Employers want students that have common sense and exhibit an ability to relate to other people in a variety of both work and social situations.
Robert Palazzo
Assistant Director, Career Services
SUNY Institute of Technology
We survey employers who attend each job fair. The two things employers consistently answered to the question; "What would make students more competitive with your company" were EXPERIENCE, particularly related experience and/or specific technical skills and COMMUNICATION skills, both in English and in other languages.
In short, you have to have experience and be able to relate that experience to what the employer is looking for in a professional manner.
Tom Wunderlich
Executive Director, Career Management Center
Old Dominion University
When working with organizations that recruit Rice University students, I typically suggest that employers focus on students' skills sets as opposed to majors. Corporations that are successful at Rice will do this. We do not have an undergraduate business major at Rice. I've seen investment banking firms and consulting organizations hire a music or philosophy major from Rice who proved to be a high performer, motivated, and creative part of the team. In short, they were outstanding employees. This of course brings them back to Rice every year.
Heidi Glantzberg
Assistant Director of Employer Relations
Rice University
What my employers want most--Excellent Interpersonal Communication Skills. If they don't have that...they won't be considered.
Michelle B. Gjerde
Director Career Center
Colorado State University-Pueblo
One employer recently stated that for his department in Portfolios the graduate's major really doesn't matter. He looks for a student who has a high GPA, who is willing to work hard and who is reliable.
He said that if the graduate has a high GPA and is looking for a company in which he can advance, he is usually quite teachable. His department is quite varied as far as types of work to be done.
I was surprised because I had been sending him only Business and ISM majors. It seems as though high GPA and willingness to work hard are criteria right up there with major.
Linda Wiggins
Director Guidance/Career Services
Clearwater Christian College
My corporate contacts beg me for employees who are proactive, questioning, thinking and engaged with life around them. The biggest problem is that today's young men and women talk too much about themselves without asking the prospective employer what he or she needs.
Regarding interview prepping: Research the company and the industry. Show interest in the company. Talk to people who work there. Find out about the company's culture -- how its people dress and communicate, and how it presents its image. Pay attention to how the interviewer reacts, to pick up cues about what you should be talking about. Demonstrate to your interviewer that you have goals, that you think strategically, that you're not random in your approach. And think positively. When discussing your qualifications, relate your experience to the job you're seeking. Tell the interviewer what you learned from your previous work. Be sure to mention your knowledge of computer skills.
Barry Miller
Associate Director of Career Services
Pace University
For the graduate business student, having a degree and experience does not make you a prime candidate or a hire. Having that MBA (as an example) means I will consider you for MBA type positions. You can have the degree and have a good interview and be a complete mismatch for an organization. A degree, to quote the old truth, does not get you an offer.
We are seeing hiring managers and recruiters looking more at those skills that will ultimately determine your success in the workplace long term. Do you have excellent written and oral communication skills, how are your interpersonal skills, can you "market" (sell) yourself, what are your transferable skills (based on your previous experience, if any), can you articulate those skills and how they will benefit our organization, can you work in a team setting, can you make a decision, how are your time management skills, and what exactly do you bring to this organization that makes you the best candidate, are you passionate about (add in the field or specialty)?
There are a lot of students who get a degree and have the expectation that that earns them the right to a job. It is only the beginning. If you are going to be successful, there is a lot more to it than just getting a degree. I'd argue that in some cases, getting the degree is the least of the effort you need to make.
We agree that marketing opportunities are on the rise, but supply chain and real estate are also growing as well at the graduate level.
Jim Dixey
Director, Graduate Business Career Services
Mays Business School
Employers consistently ask for candidates who are driven to succeed. They want students who can demonstrate a pattern of success, academically and with regard to work. Internships, volunteer experiences, and research projects are impressive to companies. Presentation is also important. Everything from attire and grooming to cover letters, resumes and thank-you notes should be flawless. Hiring managers must be convinced the candidate is a good fit for the company's culture. Finally, graduates need to show their maturity during interviews and articulate ways they will be unique contributors.
Echell Eady
Director of Career Services
Fisk University
Employers start by looking for students with the right major because it is easy to sort out qualified candidates. However, recruiters often look for students from a group of majors. The next set of criteria is much more important. Employers will often take a student with less experience, if they can prove in the interview that they have the right attitude, personality, drive, and that they are a good fit with the company and it's mission and values.
Only after you the job-seeker have a clear idea of your values, priorities, personality, interests, and skills, you can then research which industries and companies are a good fit for you. Once those companies have been identified, then research will assist the job seeker in winning a position.
Confidence in the interview is extremely important. If you are a good fit for the company and you can convey that in the interview, recruiters will be more likely to ask those applicant back for further interviewing.
Students should spend more time preparing to market their skills to recruiters.
Lastly, be aware that many employers are switching over their interviewing tactics to rely more on behavior based questions.
Robert Forcier MBA '99
Manager, Career Management Education Programs
Johnson Wales University
I have had employers tell me that if a student can graduate from college; then they are trainable intellectually. However, what they have accomplished during their time as a student to compliment their academics is important too; for instance; did they hold a leadership position in a student organization.
Julia Barlow Sherlock
Director, Career Services
Central Michigan University
Quite simply, employers want value most of all. Entry-level candidates must be able to illustrate to an employer how their current and/or future value will outweigh the employer's investment in providing salary, benefits and training.
Rob Brooks
Director of Career Services
Mount Ida College
Don't assume that employers are going to knock down your door to hire you. It is imperative that you still prepare for and pursue your career goals. It could be the difference between you being able to "select the job you want versus having a job select you". If you work hard, do the research, go to the interviews, work your network, you will have options.
Kevin Nall
Associate Director, MBA Career Management
Baylor University
While we still see majors in licensed areas as the most important criteria for initial screening of candidates by our employers, what separates the best candidates are the quality of experiences (including internships and volunteering) coupled with their skills, interests and values.
Phil Tripp
Assistant Director, Twardowski Career Development Center
West Chester University of Pennsylvania
Employers consistently comment that candidates who demonstrate exemplary interview skills are the top choices for full-time job and internship opportunities. Ability to articulate knowledge and interest in the company, excellent communication skills and professional attire are some of the key elements in successfully navigating the interview process and landing the job.
Cary E. Smedley
Employer Relations Coordinator
Towson University
Employers are looking the soft skills like writing and public speaking skills. Regarding top majors the recent trends with employers recruiting has been: Finance (with a concentration in wealth), Human Resource Management, Information Technology and Marketing/Public Relations.
Jose Toscano
Asst. Director, Career Services
Florida International University
Our overall demand for graduates across the board was up significantly this year and that includes employer attendance at job fairs. But certain specialty fields such as Supply Chain and Logistics and Civil Engineering were basically the equivalent of "sold out." The good advice to employers from our perspective is that: if the demand for grads remains as strong as it was this year, closely scrutinize position openings and broaden interview schedules to include a slightly wider scope of majors. Say a Materials Science Engineering or Industrial Engineering major instead of only Supply Chain and Logistics majors. Possibly utilizing Finance majors where before only Accounting majors were considered and hired. Reconsider the minor that a student brings to the table and not just their major. As the available talent levels off and the demand for their services increases, the prepared forward thinking organization has already made the necessary adjustments.
Russ Coughenour
Director, Career Services
The University of Tennessee
Employers are impressed with students who present themselves well, have internship experience and have researched the company/organization. Job fairs provide the opportunity for students to meet an employer face to face and put an identity with the resume.
Mariangela Ardino
Assistant Director Career Services
SUNY College at Brockport
There are many employers who will hire any major. It is my experience that if you line up 10 people in a room and ask each what they majored in college and what they do for a living, mostly they will not match up.
Employers want to hire students with a college education. Major is only relevant as the career becomes more technical.
Jennifer Cunningham
Industry Specialist-Education/Non-profit
Cal State Fullerton-Career Center
Taking a leadership role on campus is better than joining a group with only casual attendance. Work or volunteer experience related to your major/minor and/or the field you are going into (co-op or intern) is better than just "a job" (Work smart!). Community involvement is a key component for companies who draw their business from the community and the networking that takes place there. Finally, the more you struggle, the better employers like it! It shows initiative, persistence, the ability to multi-task as well as your time management and organizational skills. It will all pay off in the long run.
Terry Erickson
Career Services Cooperative Education Coordinator
University of North Dakota
The feedback that we are getting from employers is that they are seeking a "well-rounded" candidate. For this reason, in addition to a desired major, employers seek candidates that have internship, co-op or other related experience as well as candidates that have been actively involved in student organizations. Communication, interpersonal, and leadership skills rank high on employers list of desirable characteristics.
For our campus recruitment program in most cases the academic major determines whether a student is granted an interview but there are a combination of attributes that determine whether a student is hired.
Diane Martin
Associate Director, Center for Career Services
University of Washington
There are many areas that employers consider important regarding potential candidates. Employers often look for practical experience prior to graduation. Internships provide opportunities for students to gain career related skills and be supervised by professionals in their chosen field. When students work within an organization as an intern, it provides an employer to gain increased knowledge of whether a student might be a good fit for an entry level position by observing, for example, their communication skills and work ethic. Internships are therefore benefical for both the student and the employer.
Lisa Burris
Director, Office of Career Development
Christopher Newport University
Carefully honed interview skills are a must. The interview isn't just a foot in the door, it's a student's best opportunity to "make the match" --- show the employer that he or she is the best fit for the position.
Employers want to see that a student is committed, skillful and ready for the professional world. Work-related experience is an important measure of those characteristics, and it's something all students should gain prior to graduation.
A student's academic background is important, but more important is how the student can apply what is learned in the classroom.
Mary Feduccia
Director of Career Services
Louisiana State University
---
NOTE: The information contained in this press release and associated information may be reprinted in whole or in part as long as full attribution is given to CollegeGrad.com as the source of the information. This is an exception of our standard copyright policy for the material on this page only.