New Survey Results Detail What Top Employers Want Most
CollegeGrad.com Releases Top Hiring Criteria for College Grads
MILWAUKEE, WI--May 2, 2005--CollegeGrad.com, the #1 Entry Level Job Site, today released the results of its survey on what employers want most in hiring new college grads. Which is more important to entry level employers the college you graduated from? Your GPA? Or what you majored in? According to the survey results, the answer may surprise you.

The criteria that the employers ranked as most important are as follows:
#1 The student's major (35%)
#2 The student's interviewing skills (24%)
#3 The student's internship/experience (21%)
#4 Other miscellaneous qualifications (7%)
#5 The student's GPA (5%)
#6 The college the student graduated from (3%)
#7 The student's personal appearance (3%)
#8 The student's computer skills (2%)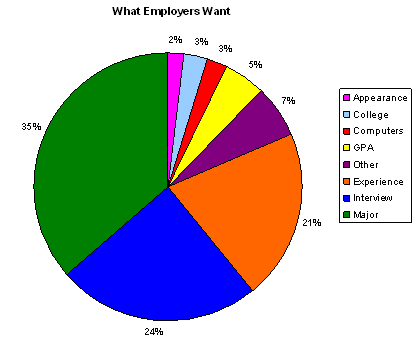 As the results of the survey show, 35% of employers ranked a student's major as the top priority for hiring consideration. Also very important to employers were the student's interviewing skills and their internships or experience.
"This is great news for students who worry that they didn't attend the right college or that their GPA is not high enough," said Brian Krueger, President of CollegeGrad.com." The results of this survey show that these are not what most employers are looking at first."
What does it mean that an employer first looks at a student's major? "We screen by major," explains Elizabeth Polak, Talent Acquisition Manager for Owens Corning. "[We also] screen by GPA and demonstrated leadership and experience."
But in a mass pool of job-seekers with the same major, how do employers differentiate among candidates? Polak continues, "The key differentiators for us are communication skills and maturity: how effectively does the student speak and write and are they comfortable in front of a variety of audiences?"
"Be congenial," said Ron Guzinski, GEICO's Assistant Vice President of Human Resources. "Have a 'get-it-done' attitude and be a team player - anything less than that will draw down the company's productivity and your career growth."
So while a student's major, or their specific experience as outlined on their resume may get their foot in the door for hiring consideration, employers often base their hiring decision on total skill sets. "Employers want their new hires to have the attributes that are difficult to train," said Dr. Bob Greenberg, Director of Career Services at the University of Tennessee. "Among these are communication skills, interpersonal skills, solid work ethic and a drive to achieve. These attributes apply to almost any corporate environment."
Steven Jungman, National Recruiter at Mattress Firm agrees. "At Mattress Firm, we hire attitude and energy and we teach skills and procedures; this has helped us to build a fully-functioning family style company where everyone is united toward the same goal - to be number one in the markets where we do business."
These concepts are especially important for job seekers who have made it through the screening process and landed an interview. As Don Kjelleren of the Middlebury College Career Services Office recommends, "while deconstructing the individual elements of 'What Employers Want' don't overlook that employers are looking for a complete candidate exhibiting a blend of these factors."
During the interview, Maureen Crawford Hentz, Director of Career Services at Wentworth Institute of Technology advises using the survey results as an important tool. "Understanding that employers do indeed look for major first can help a student package him or herself appropriately. A student graduating with an Electronics Engineering degree but applying for a position that requires a Computer Engineering degree will need to emphasize co-op experience in the field, and detail the specific technical skills he or she brings to the table.
Krueger's advice in preparing for the interview? "Do your homework. And practice practice practice! No matter how strong the resume, no matter what your major, no matter where you went to school, no matter what your GPA, you must be able to effectively communicate your background and experience if you wish to succeed where others will fail."
More information on the survey results along with a list of over 500 of the Top Entry Level Employers are posted at www.CollegeGrad.com.


About CollegeGrad.com:
CollegeGrad.com is the #1 entry level job site on the Internet and is the leader in the field of entry level job search. Established in 1995, CollegeGrad.com has been conducting the Top Entry Level Employers Survey for the past six years. Brian Krueger is President and Founder of CollegeGrad.com and author of the best-selling book for entry level job search, College Grad Job Hunter.
---
Additional employer quotes:
We screen by major, GPA, demonstrated leadership and experience, so the key differentiators for us are communication skills and maturity: how effectively does the student speak and write and are they comfortable in front of a variety of audiences?
Elizabeth Polak
Talent Acquisition Manager, University Relations
Owens Corning
419-248-8115


Be congenial, have a "get-it-done" attitude and be a team player - anything less than that will draw down the company's productivity and your career growth.
Ron Guzinski
Assistant Vice President of Human Resources
GEICO


Mervyn's is always looking for enthusiastic and exceptional individuals who are prepared to be strong leaders in the retail market." said Robin Lewis, Mervyn's senior campus relations representative. "As Mervyn's focuses on the future, we take into consideration the candidate's work experience and the skills they have gained through their educational experience such as extra-curricular organizations and class projects."
Robin Lewis
Senior Campus Relations Representative
Mervyn's HQ Human Resources
510-727-5715
Note: Members of the media should contact Michele Murphy (in Public Relations) at 510/727.2636.


At Mattress Firm, we hire attitude and energy and we teach skills and procedures; this has helped us to build a fully-functioning family style company where everyone is united toward the same goal - to be number one in the markets where we do business.
Steven Jungman
National Recruiter
Mattress Firm
Phone: 713-651-2080



---
Additional career center quotes:
We find that most students do not meet employers expectations concerning knowledge about the organization. Employers want students who have researched the organization and have more that cursory knowledge about the employer's product or service; is the employer public or private; is the employer regional, national or international, etc.
Luther Epting, Director
Career Center
Mississippi State University
PO Box P, 300 Montgomery Hall
Mississippi State, MS 39762
Phone (662)325-3344


Grades are like gate-keepers....they don't get you the job, but they can block you from applying for the job."
You don't "get the job" just because you a 3.9 GPA, but some employers do set a minimum GPA as a "gate-keeper" for narrowing the applicant pool. You don't meet that minimum....the gates don't open for you to apply.
I typically use this type of statement in our orientation and presentations to freshmen/sophomores when impressing upon students that the majority of employers today are seeking "well-roundness". We talk about what that is and how grades can impact employment opportunities and sometimes salary, if hired.
Kim Holladay
Director, Undergraduate (BBA) Career Services
SMU/Cox School of Business
214-768-1284


Employers want their new hires to have the attributes that are difficult to train. Among these are communication skills, interpersonal skills, solid work ethic and a drive to achieve, appreciation for diversity and demonstrated leadership skills. These attributes apply to almost any managerial or professional job in a corporate environment.
Dr. Bob Greenberg
Director of Career Services
Assistant Vice Chancellor for Student Affairs
University of Tennessee
Knoxville, TN 37996-4010
865-974-5435


Employers want students who will "show up, keep up , and speak up"!!!
Phillip Smith
Cooperative Education Director
Calhoun Community College
Decatur, AL


Identify what it is that you are interested in and focus on that as a career. It is also important to remember that your first job will not be your only job. If you think that an opportunity exists to learn and grow as a person to become better prepared for the future, it might be worth considering. Look at not only what you have to offer the prospective company, but also what the company has to offer you and your development.
Internships provide an excellent head start - even administrative type work in your field of study exposes you to the "lingo" and operational environment specific to that business field. Also, read the magazines and newsletters related to the industry - most of which are published on the internet.
Charlie Endicott
Associate Director of Career Services
Salisbury University
Career Services Office
GUC Room 133
1101 Camden Avenue
Salisbury, MD 21801-6860
410-543-6075/1-888-543-0148


While deconstructing the individual elements of "What Employers Want" I would recommend not over looking that what employers tell us (at Middlebury College) is that they are looking for a complete candidate exhibiting a blend of these factors. In other words, it is not just high GPA and related work experience - it is also someone they can have a conversation with in the interview.
Don Kjelleren
Middlebury College Career Services Office


This survey can be a very important tool for students and career services staff. We have seen this on our campus, Wentworth Institute of Technology. Understanding that employers do indeed look for major first can help a student package him or herself appropriately. For example, a student graduating with an Electronics Engineering Technology degree but applying for a position that requires a Computer Engineering Technology degree will need to emphasize co-op experience in the field, and detail the specific technical skills s/he brings to the table.
Another thing I'd say about job experience is that understanding that employers look carefully at this means that students must understand the difference between listing positions and duties and selling the skills learned IN the positions. If student don't approach this section of the resume carefully, they may be missing a valuable opportunity to differentiate themselves from others in the candidate pool.
Maureen Crawford Hentz
Director of Career Services
Wentworth Institute of Technology
550 Huntington Ave
Boston, MA 02115-5998
(617) 989-4101


I am actually shocked that employers stated that a student's major is the most important criterion. Everything I have heard and experienced has gone completely against that statement, except for specialized fields such as accounting, nursing, teaching.... Most employers I have been in contact with have said that the major is not as important as the skills set that the candidate has, as well as the candidate's "fit" with the organization. I have seen these sentiments put into practice by viewing our annual graduate survey which indicates where recent graduates have found employment: biology majors have been hired by investment banking institutions and arts administration students have found careers at public relations firms. I don't think that what the student studies is as important as his/her overall experience and set of transferable skills.
Victoria Crispo
Assistant Director of Career Development
Wagner College
718-420-4016


It has been my experience as Director of a Career Services Office that what employers want the most is related work experience either through employment or internships.
Deb Clarke
Director of Career Services
University of Dubuque
2000 University Avenue
Dubuque, IA 52001
(563) 589-3132


Having trained approximately 60 student workers and part-time help, my requirements would be as follows: responsible and honest, ability to get along with others, desire to learn, and job related skills. In that order.
Elaine Stewart
Coordinator Job Location/Development
Collin County Community College
Central Park Campus
2200 W. University Drive
McKinney, Texas 75071
Phone: (972)548-6769


As the director of career services for one of the largest liberal arts colleges in the nation, I receive the news of employers focusing primarily on the students' major as a mixed blessing. Liberal arts graduates continue to shine at the upper levels of management-- a recent Wall Street Journal article in fact cited the need for future CEOs to have a broad liberal arts foundation (WSJ, Tuesday, April 12 2005). But I am concerned that this message doesn't always reach the front lines who are doing the hiring, or that they are under pressure to hire specific, technical majors.
My hope is that employers hiring at the undergraduate level understand the value of a major which is not directly related to a specific career field-- that is, that an employer understands that philosophy, history, English or other liberal arts majors have developed strong interpersonal, communication, analytic thinking, reasoning, and research skills through their majors as well as through their internships and other experiences.
Liberal arts majors are trained to be broad thinkers, consider a variety of perspectives, approach problems from different angles, and conduct research and analysis which leads to correct conclusions--- all skills greatly needed in a strong manager. If the individuals who are recruiting students at the entry level are only seeking a specific major, they will be losing out on valuable employees with management potential. The increased use of computers to select candidates through "keywords" can greatly limit the employers' ability to find the hidden gems in the liberal arts also. If the employer limits his/her recruiting to business, accounting, or management majors s/he will miss a wealth of talent.
I teach a class at UT called "The Liberal Arts at Work" which focuses specifically on the value of a liberal arts education in the workplace. Each topic is covered on three levels: first we look at the traditional liberal arts approach-- classic novels, poems, texts, etc. Then we look at modern-day workplace examples. Finally, the students apply their knowledge to their own job search. For instance, one topic we cover is "storytelling". We go all the way back to Aristotle and the classic Greek dramatic structure with the question of "what makes a good story?" We study the "hero's journey" for example. Then we analyze the narrative structure of modern-day films and look at classic "storytelling" techniques used in the business world to promote their workplace culture, or sell their products. Finally the students have to write their own "liberal arts story"-- the story of how their education prepares them for the workplace. Students can then use this story in their cover letter or interview to respond to that classic question, "You're an English major. How can you possibly work for a computer company?"
The course covers other topics in the same way: strategic planning, ethics, charismatic leadership, and workplace culture.
Dr. Kate S. Brooks, Director
Liberal Arts Career Services - GEB 1.308
The University of Texas at Austin
1 University Station G6200
Austin, Texas 78712
512-471-7900, Main
512-565-4832, Cell


A common theme this year from SU employers has been that students are lacking enthusiasm when approaching or interviewing with employers. A soft skill I know but it has played a large role in whether a student has been contacted for a 2nd round interview. The playing field is still competitive for students and the employer needs to believe that a student really is interested in the position they are applying for. This didn't always come through with this years students. Just a thought, I'd be curious to see if other schools heard any of the same feedback.
Debi Walker
Assistant Director
Recruiting Employer Relations
Center for Career Services
315-443-9092


Internship experience continues to be a deciding factor to employers making hiring decisions. A successful internship can balance out a less than stellar GPA and a lack of internships can lower the value of even the highest GPA.
Megan Houlker
Associate Director
Babson College Center for Career Development
781-239-4228


A student's major is important in "specialty" areas such as engineering or accounting. And, certainly GPA is a factor in those fields because employers want the best and brightest. But most employers in other industries tend to want a particular skill set, not a particular major. In those cases, the best and the brightest are usually those with a liberal education and experience. The problem I encounter with employers is that many do not have an awareness of the skill sets that come with a degree in English, Psychology, History, etc. We need to do a better job of marketing their qualifications.
Linda M. Garlinger M.S.Ed.
Director of Career Development
Missouri Western State College
4525 Downs Dr. Fred Eder Bldg. Ste 202
St. Joseph, MO 64507
816-271-4205


Employers I speak with desire someone who is eager and willing to accept responsibility, has a sense of accountability within themselves, takes initiative and pride in their work, practiced their skills in related work environments, and most of all, has the communication skills necessary to move opportunities forward. These are qualities that require daily attention so they become habits. If successful, students are more able to give clear examples of these qualities on resumes, in cover letters, during networking gatherings and interviews.
Robert Frederick
Coordinator, Career Employment Services
Schenectady County Community College
518/381-1368


While technical competency and training are high priorities for the employment selection process we are consistently being reminded by HR professionals that new graduates need to demonstrate character and observe the basics of being a quality employee. These lessons are frequently overlooked in the typical university classroom. The following are some key points that illustrate this message:
While proficiency, competency and being highly self motivated are desirable attributes, graduates need to also reflect a posture of being teachable and the desire to learn from those who will be their future supervisors. In other words, graduates need to learn what the company mission and agenda is versus coming into a new position with their own personal agenda. This may also mean the willingness to pay the dues of experience versus being retained at the senior management level.
Students need to be reminded of the value of co-curricular activities that demonstrate a balance of leadership and service. Classroom achievement is wonderful but the student who restricts their educational experience to only academic course-work and campus activities may come up short when stacked against the graduate who has volunteered as a Big Brother (or) Sister and been involved as the project leader for Habit For Humanity. Volunteering is not only a great way to show community service and interest in others, but it also provides opportunities to employ skills being taught within the classroom in a setting similar to the work environment. For example, accounting graduates who have participated in the Volunteer Income Tax Assistance (VITA) program have gained the experience of interpersonal communications in a client setting as well as utilizing their knowledge and familiarity with the Tax Code.
HR Professionals are continually sharing horror stories of graduates who have not yet grasped the concept of presentation and protocol during the interview and hiring process. One example involved the story of a recent applicant who showed up for an interview and asked the receptionist for a cup of coffee. Posture during an interview is also important. While you may like to recline to a horizontal position in your dorm room chairs, sitting up professionally during an interview will make a better impression. We have heard tales of everything from slouching down in a chair to the female who can't seem to find a comfortable position unless she sits on her leg.
With respect to first impressions, HR professionals have expressed the need for a return to the concept of dressing for success. Investing $2.50 to have a shirt professionally cleaned and pressed is money well spent. Nothing looks worse than to try and put a tie on a shirt that has been at the bottom of clothes basket for two weeks. Thirty minutes and a .75 can of Kiwi Shoe polish is also a small detail that can make the difference in making a positive first impressions. If you have learned the corporate culture is casual - find out what corporate casual means and don't mistake the term for "sloppy."
With respect to technical competency, graduates need to be willing to go beyond the required components of their course-work. For example, while computer skills are being taught within the classroom for business students and nearly everyone has become familiar with the Microsoft Suite of applications, few students take the time to learn "Access" or "Project" yet both of these Microsoft tools have been available for years and could greatly enhance their organizational skills and employability. This applies to every major; students should begin the process of professional development at least by their junior year. What are the trends and concerns within their industries and professions? What are other professionals learning and talking about around the water cooler? What regulatory changes are happening that will eventually impact their work environment? The student who assumes their university faculty is current with the industry is the graduate who has played a game of academic Russian Roulette.
Each of these comments may be summarized under one primary context that reads, "You professional career begins the moment you arrive on campus not when you traverse the commencement platform to receive your degree." The more preparation time you have before you show up for your first employment interview, the better equipped you will be for the role.
John Brown
Director
Oral Roberts University
College Career Guidance Center
(918) 495-7864


Employers do look at majors for hiring needs but relevant work experience or internship experience is still vitally important. Also a students major may be important for their first job but it doesn't mean much after that. There are many workers who majored in one thing but ended up doing something totally different.
Justin Driscoll
Managing Director Education Network
Pittsburgh Technology Council
Phone: 412-918-4294


Most employers want co-op experience from candidates in all majors which gives the student the leading edge on employment decisions, especially students who have a year of Quality job related experience in their respective majors. In today's job market, competition is very keen, but Co-ops have the necessary communication and written skills , problem solving skills far above the rest of the candidates.
Donald Foster
Associate Director, Career Services
Tennessee Tech University
Cookeville, TN 4/28/05


At DeVry University, we find that in addition to the student's major, GPA, and related experience, employers continue to value the soft skills and attributes such as communication skills, teamwork skills, and customer service skills. Employers also seek a strong work ethic, motivation, and reliability in the talent that they hire.
John Petrik
Dean of Career Services
DeVry University
630-652-8600


It goes without saying that relevant internship experience is extremely valuable to most employers. Having said that, students must also be able display outstanding communication skills (both verbal and written communication skills) and the desire to work hard.
Maxine Sugarman
Director, Cooperative Education Career Services Pace University
New York City Campus
212-346-1752


I'm finding that more and more employers are interested in specific skill sets, irrespective of one's major. Critical thinking/problem solving skills, teamwork, leadership, interpersonal/communication skills, and a demonstrated ability to take the classroom theory and apply it in a practical way to real life situations.
Dr. Chet Rispoli
Director, CDS
Temple University


As Director of Career Services at a Liberal Arts college, I encourage students to market their entire collegiate experience, not just their major. The major is a crucial component to any degree- allowing students to gain in-depth knowledge in a particular discipline. However, "the major" typically consists of about 25% of the classes that a student takes to graduate. The 75% of classes that students take outside of their major offer employers the opportunity to hire well rounded, critical thinkers with the potential to learn and succeed in professions far outside the boundaries of their chosen discipline. I hope that entry level employers will continue to seek bright students with varied potential, considering 100% of their educational talents.
Eva Windsor
Hendrix College
Director of Career Services
President, AACE
1600 Washington Ave.
Conway, AR 72032
501-450-1416


I have found an internship experience to be extremely beneficial to our students at Green Mountain College. Many of our graduates are employed with the organization where they completed their internship, and/or have been offered a position.
Renee Beaupre White
Director of Career Services
Green Mountain College
Poultney, VT 05764
802-287-8376


Look for good opportunities in the type of environment you are interested in and be flexible. These are the students that will be the winners. The ones who understand what networking can do for them and the ones that research all possibilities and then follow up!
Rosalie Sabatino
Fairleigh Dickinson University, College at Florham
Career Development Office
Career Counselor
973.443.8949


In addition to what your survey said employers look most in college graduates, they also are very interested in strong interview and interpersonal skills. The high GPA may get you an interview but landing the job is very much based on the interview. Being able to project a positive image on an interview is critical. In addition, in some areas as finance and information systems, one must have excellent technical skills. It is not only what you studied, but do you still remember it and can you apply it. A third criteria for being hired is what school did you attend. Schools that have established reputations as producing excellent graduates will be considered more often than schools which do not have the same reputation.
Ira Jaskoll
Associate Dean Sy Syms School of Business
Yeshiva University
500 West 185 Street
New York, NY 10033
212-960-0847


Employers who use major as the prime consideration for employment may be missing out on some of the best and brightest students -- the ones who have majored in one of the liberal arts. The qualities of liberal arts graduates, which include the ability to think, to reason and to communicate, are critical in a constantly changing work world. Savvy employers recognize that these skills can more than compensate for the lack of directly related knowledge of a particular field. Hiring liberal arts graduates can be a very smart business decision."
Sheila J. Curran, SPHR
CAREER CENTER
DUKE UNIVERSITY
Box 90950, 110 Page Building
Durham, NC 27705
Phone: 919 660 1072


We did our own MN version of the NACE study. Did it ourselves as NACE typically gets only 7 or so MN employers responding to their survey and we wanted to draw from a larger sample. (We had 112 respond to our most recent survey, a 62% response rate).
One of the questions we asked employers was "what skills do students most need to improve upon" and made it an open-ended question. Not surprisingly, communication skills was the number one answer but we were a little surprised to see that:
Interviewing skills was the second most common answer and "professionalism/etiquette" was number three.
I havent seen your survey but if it includes either of these items, please feel free to include it or let me know if you need a quote.
As for the job market, our survey showed that nearly 40% of employers who recruit new college graduates in MN planned to increase their hiring as compared to the previous spring and we have seen a marked increase in recruiter activity so if that helps, feel free to use that as well. One great sign is that we are getting (repeat) employers contacting us right now who are try and recruit additional candidates, something that doesn't usually this late in the year, especially from employers who have already attended fall and spring job fairs and actively recruited on campus (in other words, "Even after actively recruiting all year, we have multiple employers who are still looking to hire additional candidates, a great sign for the "about to graduate" student who is still looking.
Andrew Ditlevson
SCSU Career Services
(320) 308-4018



---
NOTE: The information contained in this press release and associated information may be reprinted in whole or in part as long as full attribution is given to CollegeGrad.com as the source of the information. This is an exception of our standard copyright policy for the material on this page only.
Brian Krueger is available for interviews with national TV, radio, magazines and newspapers as an industry expert on college/entry level hiring, as well as Internet job search.
Contact us for additional information.